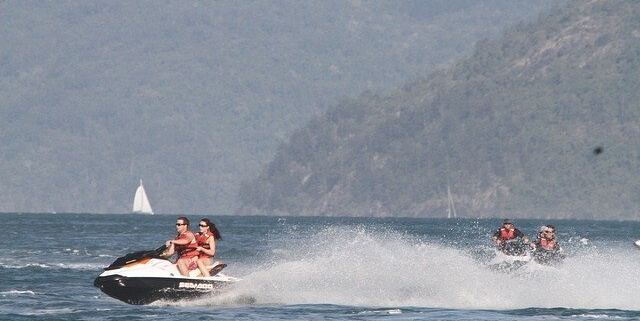 What was supposed to be a fun day on the water turned into a nightmare after the jet ski 17-year-old Bethany Philips was riding on with her father was T-boned by another watercraft. Northwest Florida Daily News says that Phillips and her father were heading to her grandfather's house on a small bayou in the Poquito area when another watercraft collided into theirs. The impact sent the jet ski and both passengers airborne, and Bethany to the ICU at an area hospital.
Phillips' mother said that initially, they though Bethany's leg was going to have to be amputated as her peritoneal artery had been severed and there was no blood flowing to her foot. But, after undergoing three surgeries, doctors are hopeful that they may be able to save her leg. The source says that while physicians were able to repair her broken tibia with a rod, she still has a chunk of flesh missing from her ankle.
The Florida Fish and Wildlife Conservation Commission said Philips' watercraft was struck by another that was a part of a guided tour. The driver of the other watercraft, identified as 31-year-old Dyquin Reed, was cited for violating a navigational rule resulting in an accident. As for Phillips' father, he also suffered injuries including a broken pelvis and back. Thankfully, the damage to his back did not result in him being paralyzed.
A woman who allegedly witnessed the accident has been in touch with Phillips' mother and was planning on attending an Okaloosa County Commission meeting to "advocate for safer waterways."
Bethany's Family Asks for Help
Given the severe injuries Bethany suffered and the possibility that she may need to have her leg amputated, Phillips' mother is asking people for help "in keeping her daughter's spirits up" by sending cards, notes, etc. The teen's mother said that her daughter is "frustrated about the pain and not being able to move." She added, "the only thing that makes her smile is when she hears someone is thinking about her and praying for her."
Although doctors have given the family some hope that an amputation may not be required, Bethany still suffers from an "open wound, a shattered tibia, and an uncertain prognosis."
Did you suffer injuries in an accident in Fort Walton Beach, Florida?
If you were involved in an accident that left you severely injured and you are looking for a way to recover compensation for the medical expenses you have incurred, the Fort Walton Beach, FL accident lawyers at Browning Law Firm can help. With their extensive experience in accident law, the attorneys at Browning Law Firm are more than qualified to assist you with obtaining the maximum amount of compensation your injuries entitle you to.
Browning Law Firm can be reached at:
418 Racetrack Rd. NE, Ste B
Fort Walton Beach, FL 32547
Phone: 850-344-1736
Website: www.browninglawfirm.com
https://accident.usattorneys.com/wp-content/uploads/sites/2/2020/08/personal-watercraft-185769_640.jpg
426
640
jennifer
https://usattorneys.com/wp-content/uploads/sites/2/2020/01/logo.svg
jennifer
2020-08-29 02:14:35
2020-08-29 02:14:35
17-Year-Old Hospitalized After Her Jet Ski was T-Boned by Another Watercraft in Okaloosa County, Florida