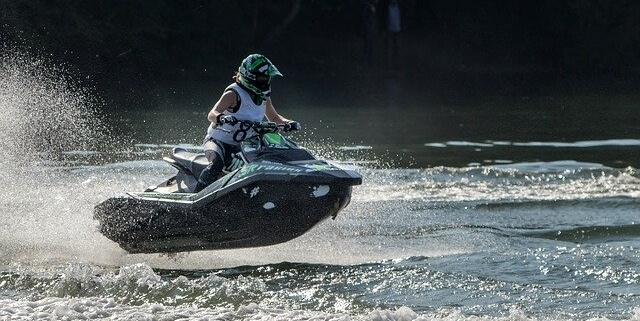 The Pensacola News Journal recently reported that a 21-year-old woman died from the injuries she suffered in a jet ski accident that occurred near Pensacola Beach. The source says Melly Johannes, 21, of Brandon, MS, was riding on the back of a single jet ski with Ebrahim Alshatabbi, 28, who was driving. While the two were riding on the south side of Santa Rosa Island near Quietwater Beach, their jet ski collided with another jet ski.
The impact caused Alshatabbi and Johannes to be ejected from the jet ski into the water. The two had to be transported to nearby hospitals as a result of the injuries they suffered. The source says that one of the riders was transported via LifeFlight while the other was taken by ambulance. The driver of the other jet ski was uninjured.
After Johannes arrived at Baptist Hospital, she was pronounced dead.
Sometime after the tragic incident occurred, Rebekah Nelson, a spokeswoman for the Florida Fish and Wildlife Conservation Commission (FWC) issued this statement, "Our thoughts are with the family and friends of Ms. Johannes during this difficult time." Nelson said that while no criminal charges have been filed as of yet, the incident is being investigated to determine what caused the collision to occur between the two jet skis.
Involved in an accident in Fort Walton Beach, FL?
Under Florida law, you may be entitled to take legal action against the party you were involved in the accident with if you are looking to recover compensation for the injuries you suffered. Even if you were partially liable for the accident, you aren't barred from recovering damages (i.e. money that is awarded as a form of relief for the impact the accident has had on you), given the court believes you should be awarded it.
What types of damages might I be entitled to collect?
If you can prove the other party was negligent in some way, which can usually be accomplished with the help of an experienced Fort Walton Beach, FL accident lawyer, the court may award any of the following damages:
Pain and suffering
Past and future medical expenses. If you were required to undergo medical treatment as a result of the accident and have been informed that you will need ongoing medical care, you can request that the court award you for this.
Lost income. If your injuries kept you out of work, you may be entitled to collect compensation for the amount you would have earned.
Replacement value of lost personal property, and more.
To find out if you have a viable case and what it is worth, contact Browning Law Firm. In the event that you do, the Fort Walton Beach, FL accident attorneys at this firm are prepared to dedicate the time and effort needed to help you obtain a favorable outcome.
Browning Law Firm can be reached at:
418 Racetrack Rd. NE, Ste B
Fort Walton Beach, FL 32547
Phone: 850-344-1736
Website: www.browninglawfirm.com
https://accident.usattorneys.com/wp-content/uploads/sites/2/2020/07/jet-ski-2785156_640-2.jpg
359
640
jennifer
https://usattorneys.com/wp-content/uploads/sites/2/2020/01/logo.svg
jennifer
2020-07-03 16:50:58
2020-07-22 18:56:28
21-Year-Old Woman Dies in Jet Ski Accident Near Pensacola Beach