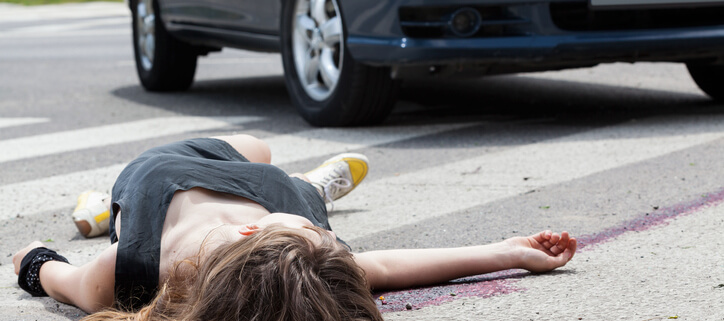 A horrifying incident reported on Sunday morning, a three-car crash in Westport, Massachusetts, has left a 10-year old girl dead. Bristol County District attorney Thomas Quinn's office has identified the deceased girl as Anilda Ribeiro, whose 9-year-old sister has survived the attack with serious injuries. The initial investigation of the officials pronounced that the accident happened in two phases. A Subaru WRX made slight contact with a Toyota Tundra, both driven by women driving to New Bedford. After the minor interruption, they resumed the driving and met with a Jeep Grand Cherokee resulting in the unfortunate incident. Officials recorded another accident where a car crashed right into a utility pole just 3 miles away from Westport. Despite the strict traffic rules, the state has seen a spike in similar accident cases. A human's life is being shed at the cost of somebody's failure to adhere to the rules and regulations. If you are directly involved in an accident case or know someone trapped in the complications of legal formalities associated with such issues, seeking legal help is the best way to move forward. Accident attorneys specialized in the field of accident-related cases can help make the process easy for you.
The need for an accident lawyer
According to Westport police reports, seven people were taken to hospitals in Fall River, New Bedford, and providence immediately after they received frantic emergency calls. The people sitting in the rear seat of the vehicle suffered critical injuries when compared to others. The accident has caused a wave of shock, and the family members of the dead girl are left in an emotionally tangled situation. A detailed investigation will be launched by the police soon. In desperate times like this, legal advice is a necessary component that can make your ride through the tide easier. An accident lawyer has a clear idea of the multiple strategies that should be undertaken to win the case from your side. A qualified professional can face the worst and turn it in your favor.
Hire an accident attorney
USAttorneys.com hosts a pack of accident lawyers available to take up accident-related legal cases in and around Massachusetts. Suppose you have met with an accident indirectly or directly and are fearfully waiting for the courtroom procedures. In that case, you don't have to stress about the complications of the legal process and the benefits you enjoy as a citizen. These professional lawyers with vast field experience could help you through. In case of insurance claims related issues, there's a separate division of insurance claims attorneys specializing in that domain. Contact USAttorneys.com and book your appointment.
https://accident.usattorneys.com/wp-content/uploads/sites/2/2020/09/iStock-512520879.jpg
483
724
Justin Arias
https://usattorneys.com/wp-content/uploads/sites/2/2020/01/logo.svg
Justin Arias
2020-09-17 16:11:42
2020-09-17 16:11:42
A Tragic Car Crash In Massachusetts Withers Away One Life