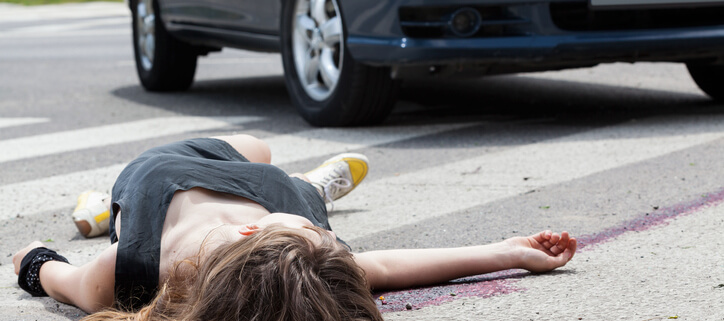 Police responded to an accident scene to find that a pedestrian had been struck and killed in Baton Rouge, Louisiana. 
Pedestrian dies after being hit on the roadside
The situation began at around 8 pm on a Wednesday night at the 4500 block of Elm Drive. The sergeant who responded to the scene received witness accounts that a dark colored vehicle had hit a pedestrian in the area, then drove away. Emergency crews came to the scene a short time later, but the pedestrian died from injuries sustained during the collision as he was being treated.  
Further investigation revealed that the suspect's vehicle was attempting to pass another car while the victim was walking on the side of the road. The suspect struck the pedestrian and drove away without stopping or trying to help the victim. The victim was identified as a 44 year old male from the town of Zachary. 
Local police published their number for crime stoppers and said that anyone with information about the accident can leave anonymous tips. The Baton Rouge Police and state law enforcement plan to continue the investigation until the suspect is found. 
Contacting the police and an insurance provider after a hit and run
If you are involved in an accident where the other driver has left the scene, it is important to contact the police right away. You should have a description of the vehicle and take pictures if possible. Because leaving the scene of any motor vehicle accident is a crime, the police will attempt to find and arrest the suspect as soon as possible. 
You should also begin the insurance process by contacting your provider and letting them know what has happened. The accident report generated by the police will give evidence that the collision happened and that the driver responsible left the area in violation of local laws. They should have instructions regarding how to get paid for the vehicle damage based on the specifics of your policy. 
Suing the driver after they are identified
Finding the driver is important, as they will need to be identified so that you can file a civil lawsuit. You can bring a personal injury case that forces the person who is responsible for your injuries and property damage to pay for all of these losses. The fact that they left the accident is an important piece of evidence that can be presented during the lawsuit. In some jurisdictions, a person who illegally leaves an accident scene will be presumed to be at fault for all of the damages, which is a favorable situation for a plaintiff. 
Learn about civil lawsuits from a local attorney
You can speak with a lawyer in Baton Rouge about the possibility of bringing a civil case against the person responsible for your injuries or the death of a family member. To get more information about this process, contact:
Miller, Hampton, and Hilgendorf
3960 Government St., Baton Rouge, LA 70806
225-343-2205
www.mlhlaw.com
https://accident.usattorneys.com/wp-content/uploads/sites/2/2020/09/iStock-512520879.jpg
483
724
brian
https://usattorneys.com/wp-content/uploads/sites/2/2020/01/logo.svg
brian
2020-09-16 12:40:49
2020-09-16 12:43:05
Baton Rouge pedestrian was killed in a hit and run incident on Elm Drive