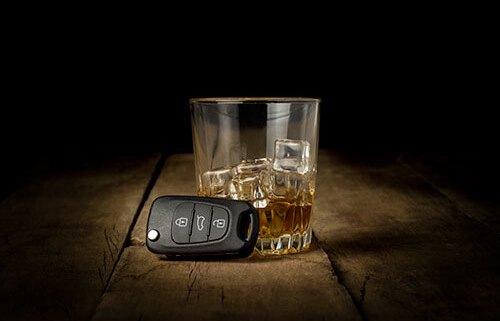 The intoxicated driver told investigators she wanted to kill herself by crashing her car into a truck, or tree, but she hit an SUV instead, causing the death of its passenger, the Broward Sheriff's Office said.  Tamera Leigh Prevo, 60, of Fort Lauderdale, is facing 16 charges that include DUI causing serious bodily injury, aggravated battery with a deadly weapon, and reckless driving, among others, records show.  About 5:20 p.m. she left the Palm Aire Village community and drove along the 800 block of Cypress Boulevard. She was swerving left and right along the two-lane road and struck the driver's side of a white Toyota RAV4, causing it to flip onto its passenger side.
Impaired driving.
About 29 people die in car crashes involving alcohol-impaired driving every day in the United States.  About a third of all United States traffic crash deaths involved drunk drivers with blood alcohol levels of .08 g/dL or higher, although lower blood alcohol levels can impair driving and cause accidents as well.  Blood alcohol levels are measured with a breathalyzer, or by a blood test.  Legally, enforcement efforts include charges spanning from misdemeanor to felony offense classifications.  The penalties for drunk driving depend on factors including blood alcohol level, age, and repeat offender status to name a few.  The outcome involves costly fines, driver's license revocation, and jail time when warranted.  A person is guilty of the offense of operating a vehicle under the influence of alcohol when driving is affected to the extent that physical faculties are impaired according to Florida Statute 316.193 that outlines penalties of this offense.
Possible criminal charges.
Damage to property or person of another is considered a misdemeanor of the first degree;
Serious bodily injury to another is considered a felony of the third degree;
Death to any other human could be considered DUI manslaughter and is considered a felony of the second degree; or a felony of the first degree if the person was aware of the crash and did not give information or assistance as required by law.
Wrongful death civil action.
A wrongful death legal action can be brought by loved ones when a person dies because of the negligent, reckless, or deliberate act of another. The criminal charges in this case will have a significant bearing on the wrongful death civil action. Damages in these lawsuits can include:
Medical bills and burial expenses
Compensation for lost wages
Compensation for the pain and suffering
Punitive damages that are intended to punish the person who caused the death.
Seek legal counsel.
Hiring a knowledgeable attorney to assist with the necessary legal actions to be undertaken during the time of grieving the death of a loved one is a wise decision.  Counsel can be of assistance in filing a wrongful death case and interacting with criminal lawyers for the state action against the DUI driver.
Sources:
https://www.cdc.gov/motorvehiclesafety/impaired_driving/impaired-drv_factsheet.html
https://www.sun-sentinel.com/local/broward/pompano-beach/fl-ne-pompano-dui-crash-20200616-g26rakgt3faerawhxa7o42snuq-story.html
http://www.leg.state.fl.us/statutes/index.cfm?App_mode=Display_Statute&URL=0300-0399/0316/Sections/0316.193.html
https://accident.usattorneys.com/wp-content/uploads/sites/2/2020/05/drunk-driving-accident-usattorneys-attorneys.jpg
333
500
nora
https://usattorneys.com/wp-content/uploads/sites/2/2020/01/logo.svg
nora
2020-08-03 12:11:03
2020-08-03 12:13:41
DUI driver hit an SUV, killing a heart surgery patient in Pompano Beach Florida.