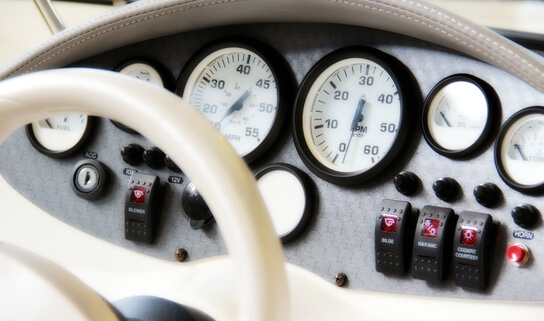 A husband and wife are suing a boat owner who was also piloting the vessel after the 42-foot-Hydra-Sports Custom boat they were riding on crashed into a jetty, causing one of the parties to suffer catastrophic injuries. The Sun-Sentinel says that Lauren Silagyi and her husband Jarret, decided to celebrate Lauren's 33rd birthday out on a late-night cruise through the Intracoastal Waterway on December 30th. As the boat was headed back to port, the operator, Daniel Towriss, missed the turn which prompted him to circle back around and try again.
This time, as Towriss attempted to return to port, he allegedly "plowed into the unlit jetty [on the Dania Beach side of Port Everglades] and landed at a precarious angle, wedged against the rocks." As a result of the impact, Mrs. Silagyi was thrown onto jagged rocks and suffered serious injuries to her head. The three other occupants, which included Towriss' significant other, also suffered injuries as well. The source says Lauren Silagyi suffered a fractured skull, a traumatic brain injury, brain bleeding, a broken nose, permanent facial scarring and disfigurement, and a fractured right leg and ribs.
Jarret Silagyi, on the other hand, was knocked unconscious during the crash but also suffered head trauma, cuts on his lip, and a broken nose. The couple's lawsuit says he "also faces the prospect of permanent impairments."
After the unfortunate incident occurred, Lauren Silagyi was required to undergo two brain surgeries, including a craniotomy which was needed to help reduce the pressure from a buildup of blood and spinal fluid in her skull, according to the lawsuit. As mentioned, the suit does name Towriss as the defendant as the couple believes it was his negligence that led to the accident. The couple claims Towriss had a cocktail and several servings of wine before getting behind the helm.
Towriss, who is the CEO of an insurance company with $37 billion in assets and the owner of the 42-foot Hydra-Sports Custom boat, has hired an attorney of his own who has already expressed that his client was not responsible for the incident. The couple is seeking more than $100 million in damages.
If you were involved in any type of accident in Fort Lauderdale, FL, you need to retain a lawyer as soon as possible.
If you or a loved one suffered injuries and are looking to recover compensation for the impact the incident has had on your life and physical abilities, you are going to want to hire an experienced Fort Lauderdale, FL accident lawyer. The accident attorneys at Madalon Law have a great deal of experience with handling all types of accident cases and are confident they can help you recover the maximum amount of compensation you are entitled to. To find out if you have a viable case and what it is worth, contact Madalon Law today at 954-923-0072.
You can reach Madalon Law at:
100 N. Federal Highway, #CU5
Fort Lauderdale, FL 33301
Phone: 954-923-0072
Website: www.madalonlaw.com
https://accident.usattorneys.com/wp-content/uploads/sites/2/2020/08/photodune-1508379-on-the-boat-xs.jpg
367
544
jennifer
https://usattorneys.com/wp-content/uploads/sites/2/2020/01/logo.svg
jennifer
2020-08-10 00:15:56
2020-08-10 00:15:56
Fort Lauderdale, Florida, Couple Sues Boat Owner for More Than $100 Million After Vessel Crashes into Jetty