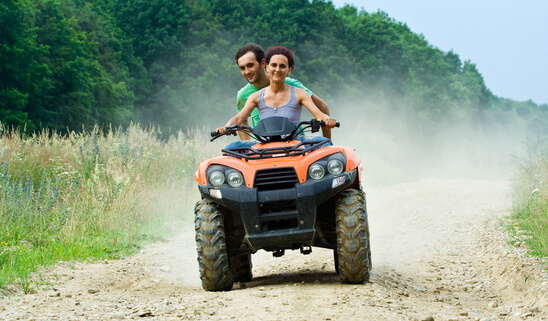 When accidents happen in rural areas, it can take longer for emergency crews to arrive, which increases the odds of serious health complications. 
A crash between a car and an ATV claimed the life of a 65 year old man in Monona County, Iowa. 
Car goes into the back of an ATV on a rural road and kills the driver
The incident happened on a rural road in Monona County at about 9:50 pm on a Tuesday night. The Iowa State Patrol responded and found that the male victim on the ATV from the town of Hornick was dead on arrival. 
An initial investigation showed that both vehicles were going westbound on the dirt road when a car driven by an 18 year old male from the town of Oto hit the rear of the victim's ATV. The force of the impact pushed the ATV and the victim into a ditch on the north side of the road. A spokesperson from the Iowa State Patrol confirmed that the young male driving the car was not hurt during the incident. 
By that Thursday, local police were still investigating and had not brought charges against the driver at fault. A full investigation was in the process of being completed and law enforcement did not have any further updates. 
Deadly accidents and civil lawsuits
When someone dies due to another driver's negligent or reckless behavior, the Iowa statutes provide a remedy to certain family members through a wrongful death lawsuit. This type of case can be brought even though the victim is no longer available to personally bring the action. When a victim survives, but is only injured, they will usually bring a negligence case to show that the defendant was at fault for their losses and needs to pay for them. The process of proving liability in a negligence or wrongful death lawsuit is very similar. 
Wrongful death laws in Iowa
Iowa's wrongful death statute says that family members can bring the case on the deceased person's behalf. In most cases, the executor of the person's estate, or a surviving spouse or child will be the one to actually bring the lawsuit. In some rare cases, an administrator will be appointed by the courts, and they have the authority to bring the action when family members are not available. The damages available in this action are similar to those in other civil injury lawsuits such as medical costs, property repairs, and emotional trauma. Wrongful death cases also allow for expenses related to funerals and burials to be claimed as damages.  
Get help from an Iowa personal injury lawyer
There are local firms that can help you if you have recently been injured in any kind of motor vehicle accident. To learn more about this process and the potential value of your case, contact:
Eells and Tronvold Law Offices
1921 51st Street NE, Cedar Rapids, IA 52402-2400 
319-393-1020
www.eellsandtronvold.com
https://accident.usattorneys.com/wp-content/uploads/sites/2/2020/08/photodune-598982-couple-riding-atv-xs.jpg
365
548
brian
https://usattorneys.com/wp-content/uploads/sites/2/2020/01/logo.svg
brian
2020-08-04 13:46:50
2020-08-04 13:50:04
Iowa ATV rider is killed in a rural accident