All traffic accidents can possibly result in civil repercussions, but only some accidents will result in criminal charges if illegal activities are involved, like drunk driving or leaving the scene of an accident. 
The civil aspects of a motor vehicle accident consist of an accident report generated by local police, insurance claims to repair damages and notify the provider, and personal injury cases if one or more of the drivers involved attempt to receive compensation for their losses following the crash. 
The decision of whether criminal activity is related to an accident is handled by the government, and the other drivers involved will usually have minimal involvement in this process. 
For most victims who need help paying for things like medical treatment and vehicle repairs, the best course of action is to contact a civil attorney who handles these matters. If the driver responsible was engaged in any kind of illegal behavior, it is also possible to stay in contact with a local prosecutor to assist them as a witness in a criminal case. 
A standard motor vehicle collision
After all accidents, it is recommended to exchange information with the other driver, contact your insurance provider, and also contact the local police if there is damage to the vehicle so that an accident report can be generated. For civil matters such as personal injury lawsuits or insurance claims, these reports can become crucial evidence regarding what happened at the scene.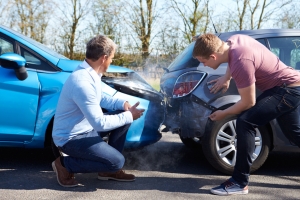 Accidents with criminal charges attached
The criminal aspects of an accident are essentially controlled by the state. They can decide whether the person responsible should be charged with any crimes. Many of the most common offenses include driving under the influence of drugs or alcohol, vehicular manslaughter, reckless driving, or leaving the scene of an accident without contacting the other driver or the police. 
Even when a driver is charged criminally, this process mostly out of the hands of the victim and the punishment and sentence is decided by the state. While some cases may include restitution to pay for the victim's losses as part of a criminal sentence, accidents that include criminal cases are not meant to compensate victims financially. 
A victim should remain in contact with a prosecutor if they are a witness or victim in a criminal case, but the discretion of what charges to file and whether charges are filed at all are ultimately a decision made by a district or state attorney's office. 
What is the best course of action after a collision?
For most drivers, following the directions from their insurance company and the police in the immediate aftermath are the best starting point. They may conduct their own investigations to gather more info about the cause of the accident and other important matters. However, it is also important to contact a civil attorney who focuses on automobile accidents or personal injury cases. They will normally file a civil negligence lawsuit against the driver or business at fault.  
Get help from a local lawyer after your accident
There are experienced attorneys in every city in America who help people involved in motor vehicle accidents. You can use the listings on USAttorneys.com to find one in your area and schedule a consultation to discuss the specifics of your case.
https://usattorneys.com/wp-content/uploads/sites/2/2020/01/logo.svg
0
0
DAMG
https://usattorneys.com/wp-content/uploads/sites/2/2020/01/logo.svg
DAMG
2020-02-04 19:09:39
2020-07-22 18:56:38
Is a traffic accident civil or criminal?