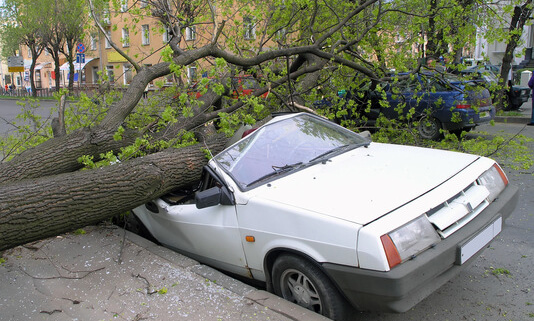 An exact cause of an accident or determining fault can be extremely difficult at times. The civil law has adapted to allow injured people to file cases even if fault is not clear.
An accident that involved several vehicles in Jackson, Mississippi required emergency crews to extract drivers and their vehicles from the woods near a highway. 
Three cars collided and ended up on the side of the highway
The incident happened on Interstate Highway 55 northbound, right near the Pearl Street exit. Three total vehicles were involved, and they were identified as a Ford F-150 pickup truck, a black Toyota Land Cruiser, and a white Nissan Altima sedan. All of the cars went into the trees near the roadway after the collision. 
After the collision, the driver of the land cruiser had to be forcefully extracted from the vehicle and taken to UMMC. He was unresponsive at the time but regained consciousness later at the hospital. Both the Nissan and Ford drivers were able to be treated at the scene and their injuries did not appear to be serious or life threatening. 
An exact cause of the accident was unknown at the time, but police plan to do a full investigation to gather more information. 
Accidents involving multiple vehicles where fault is not clear
Most civil cases related to car accidents are actually filed as negligence lawsuits. This is a large area of tort law, and it essentially makes the person responsible for a mistake pay the victim for any losses that are tied to an accident. 
Like all other states in the U.S., Mississippi has its own set of negligence laws that are used as a guide to determine fault or divide fault among all of the parties involved. 
Mississippi's negligence laws
Mississippi has adopted a modern form of negligence that is used by several other states as well. The pure comparative negligence system allows fault to be divided between everyone involved in an accident to equal one hundred percent. A plaintiff who is partially at fault may still collect damages from the defendant, but their damages must be reduced relative to their level of fault in the accident. 
Trying to estimate or project what a person's level of fault may be or the amount of money they can collect is not a good idea until you have discussed your accident with an attorney. Negligence is one of the more complex aspects of civil lawsuits, and only a licensed legal professional can give you advice regarding how to proceed with your case. 
Decide if you should bring a case against the person at fault for an accident 
There are local attorneys who help clients with their problems in the Jackson, Mississippi area. To find out if a lawsuit is the right option for you, contact:
129B South President Street, Jackson, MS 39201 
601-228-6722 
www.wnwlegal.com
https://accident.usattorneys.com/wp-content/uploads/sites/2/2020/06/photodune-2328860-accident-xs.jpg
374
534
brian
https://usattorneys.com/wp-content/uploads/sites/2/2020/01/logo.svg
brian
2020-06-17 14:25:14
2020-07-22 18:56:30
Jackson Mississippi crash leaves several injured drivers and investigators confused