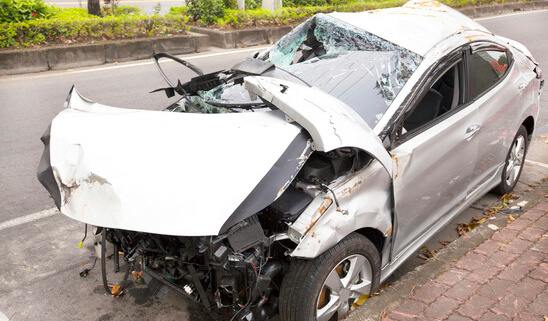 A severe motor vehicle accident in south Las Vegas, Nevada caused three injuries. One person involved remained hospitalized in critical condition at the time of the news report. 
Pickup truck and sedan collide near a stop sign at an intersection
The incident began on Windmill Lane when a 2015 Dodge Ram Pickup truck that was towing a utility trailer was driving eastbound. A 2013 Nissan Altima was at a stop sign nearby at Gillespie Street around the same time. When the Altima progressed forward through the intersection, the front of the Ram and the passenger side of the Altima collided. The Altima went off of the road towards a corner of the intersection due to the impact. 
The occupants of the Altima all had to be hospitalized at University Medical Center with varying injuries. A 56 year old woman from inside the Altima had critical injuries. Two other people in the vehicle, aged 61 and 62, were also transported to be treated for moderate injuries. 
The people who were in the pickup truck were not injured at all. A 44 year old male who was driving the truck stayed at the scene and cooperated with law enforcement. Police who talked to the driver did not suspect any foul play or impairment. 
The Las Vegas Metro Police planned to conduct a full investigation to determine an exact cause of the accident. 
Who is at fault for these injuries?
In situations like this, it can be difficult to determine who is legally responsible for an accident. The police did not give any citations or bring charges for illegal behavior related to the car collision. After the insurance companies are notified by the drivers and the police conclude their investigation, they will generate an accident report. There may be civil lawsuits to collect money from the driver determined to be at fault in the report. If the case goes to court, a jury will make the final decision as to who was responsible for the damages. In a situation where the evidence of fault for one side is relatively clear, the parties may settle the case rather than invest time and money in additional litigation. 
What is the benefit of bringing a civil case?
An insurance claim may often be insufficient to cover all of the losses related to the collision. Keep in mind that in a situation like this, medical bills can become large and a person may need permanent care for serious injuries and long-term medical problems. The person who is responsible can be ordered to pay for all of this, even if they have insurance coverage. 
Talk to a professional after a collision
There are accident attorneys in the Las Vegas metro area who can assist you with a lawsuit against another driver. To find out if you should bring a civil case, contact:
8716 Spanish Ridge Ave, Suite 120, Las Vegas, NV 89148
702-600-3200
www.southwestinjurylaw.com
https://accident.usattorneys.com/wp-content/uploads/sites/2/2020/09/photodune-6467998-car-accident-and-wrecked-car-on-the-road-xs.jpg
365
548
brian
https://usattorneys.com/wp-content/uploads/sites/2/2020/01/logo.svg
brian
2020-09-15 14:31:56
2020-09-15 14:31:56
Las Vegas accident results in three hospitalizations after an intersection crash