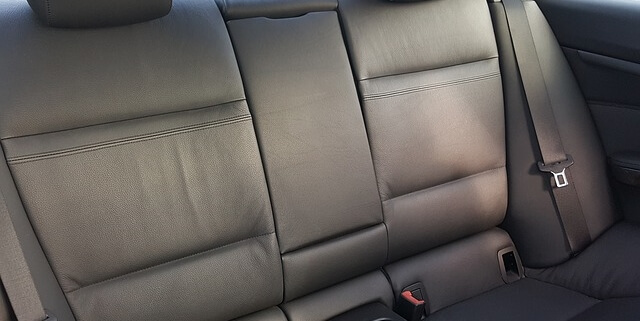 On February 10, 2020, Governor Andrew Cuomo signed S4336A, a bill sponsored by Senator David Carlucci, that requires backseat passengers to wear a seat belt. The law, which took effect on November 1, 2020, states that "no person sixteen years of age or over shall be a passenger in a motor vehicle unless such person is restrained by a safety belt approved by the commissioner." The law amended a previous law that only required individuals who were 16 years of age and older to wear a safety belt when riding in the front seat of a motor vehicle.
According to Carlucci, "the new law was long overdue" as it has been a common misconception that wearing a seat belt was not necessary when riding in the backseat of a vehicle [Source: The New York State Senate]. The New York State Senate cites that the AAA Northeast has actually found that "an unbelted rear seat passenger in a vehicle is two times more likely to be killed, eight times more likely to be seriously injured, and two times more likely to kill a front seat occupant by becoming a projectile."
If an individual is found violating S4336A, they shall be fined $50 along with the driver. The law not only applies to occupants of passenger vehicles but also to those who use ridesharing companies such as Uber and Lyft to get around.
What are the consequences of not wearing a seat belt?
Aside from being fined, an individual who chooses to ride in a vehicle unrestrained puts themselves at risk of suffering serious or fatal injuries in the event of an accident. Although seat belts cannot prevent all injuries in an accident, they do save lives and reduce the chances of an occupant suffering severe injuries. In 2017, the National Highway Traffic Safety Administration (NHTSA) says that of the 37,133 people who suffered fatal injuries in motor vehicle collisions, 47% were not wearing their seat belts. During that same year, it is estimated that 14,955 lives were saved by seat belts.
Involved in an accident in Syracuse, NY?
If a driver was recently involved in an accident and injuries were suffered, it is best to contact a Syracuse, NY accident lawyer as soon after the accident as possible. Stanley Law provides an array of legal services to those who were involved in a wreck, including helping them understand their legal rights and whether their injuries entitle them to compensation. If a driver would like to discuss their recent accident with an accident lawyer in Syracuse, NY, they can reach Stanley Law at 1-800-608-3333.
Stanley Law is located at:
215 Burnet Avenue
Syracuse, NY 13203
Phone: 1-800-608-3333
Website: www.stanleylawoffices.com
https://accident.usattorneys.com/wp-content/uploads/sites/2/2020/11/car-2020077_640.jpg
480
640
jennifer
https://usattorneys.com/wp-content/uploads/sites/2/2020/01/logo.svg
jennifer
2020-11-06 15:23:11
2020-11-10 14:02:46
New York State Passes New Law Requiring Backseat Passengers to Belt Up