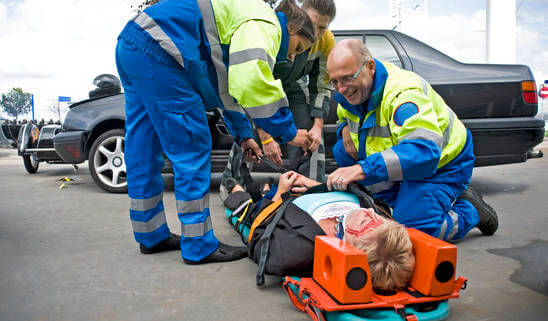 Phoenix, AZ – When someone is seriously injured in a motor vehicle crash, they will have a number of sudden expenses and financial losses. The losses associated with medical problems can become especially problematic for a number of different reasons. Aside from the initial costs of treatment, someone who has a permanent disability or long period of recovery after an accident will not be able to earn income as normal. This calculation of future lost wages and income is often one of the largest parts of economic damages when the victim loses career opportunities. 
Economic damages for documented losses
A person who is hurt in a motor vehicle accident is eligible for economic damages that are related to concrete costs associated with healthcare, property damage, and lost income. There will also be damages for emotional pain and suffering available that are not tied to finances and earnings. The attorney for the victim will attempt to gather up any evidence related to the victim's costs when they argue for economic damages. This can include medical records, invoices for vehicle repairs, pay statements, and insurance documents. 
Future lost earnings
It can be somewhat complex to determine an accident victim's future lost earnings. Things like the person's current salary, rate of promotion, inflation, age, expected career length, and potential for growth based on past achievements can all be considered. 
This calculation of lost earnings can actually be quite large. For example, If the victim had twenty years left until retirement, their annual salary adjusted for increases and various other factors can be multiplied by twenty for their remaining years of work. This figure will often be in the high thousands or millions of dollars when everything is added together and summarized. 
Benefits can also be added to this amount in some cases. This will include the value derived from things such as paid time off, social security, investment and 401k plans, and even things like health insurance. 
Legal advice related to damages
The economic losses available to any accident victim are highly fact dependent and can vary greatly based on the victim's situation. For this reason, it is best for any who was harmed in an accident to meet with a local lawyer as soon as possible. They can outline a course of action, give more specific advice and monetary amounts, and estimate the amount of damages available. 
Local firms can help with accident lawsuits
After any kind of motor vehicle accident, speaking with an attorney who focuses on civil lawsuits is an important way to get financial help. Southwest Injury Law is an experienced group of attorneys who are available to assist local clients in Phoenix. 
Firm contact info:
4425 North 24th St., Ste. 225, Phoenix, AZ 85016 
602-777-3300 
www.southwestinjurylaw.com
https://accident.usattorneys.com/wp-content/uploads/sites/2/2021/02/photodune-833358-ems-team-at-work-xs.jpg
365
548
brian
https://usattorneys.com/wp-content/uploads/sites/2/2020/01/logo.svg
brian
2021-02-02 08:32:35
2021-02-02 08:33:06
Phoenix area accidents may result in large amounts of future lost income