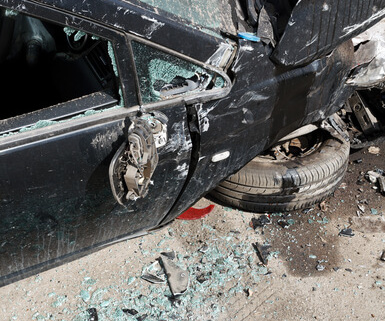 On July 29th, an unfortunate accident occurred that claimed the life of a 21-year-old female who was riding as a passenger in a vehicle with three other individuals. AZ Family says the 21-year-old, who was later identified as Victoria Dukepoo, a 16-year-old girl, a 14-year-old boy, and a 20-year-old male had been out driving in a Phoenix neighborhood at around 9:00 p.m. near 19th Avenue and Van Buren Street when the 20-year-old lost control of the vehicle. As a result, the vehicle spun out and collided into a block wall.
Dukepoo and the two teens were all transported to an area hospital after suffering serious injuries and it was there where the 21-year-old died. Sgt. Mercedes Fortune with the Phoenix Police Department told the source that the male driver was not seriously injured nor was he impaired. At the time of reporting, officials were not able to identify what had caused the male to lose control of the vehicle but said the investigation was ongoing.
Teen Girl Dies in Car Crash in Phoenix
Nearly three weeks prior to this accident, a fatal crash transpired in Phoenix that left a teen girl dead and another severely injured. AZ Family reported that on July 10th, a 17-year-old boy and a 16-year-old girl were heading northbound on 44th Street when the boy ran a red light and collided into a vehicle heading west on Greenway Road. The two teens were transported to an area hospital in serious condition and that is where the 16-year-old died.
The teen who suffered the fatal injuries was later identified as Anahi Gomez-Estrea and she had been riding as a passenger in the vehicle. The individual who was occupying the other vehicle was identified as a 43-year-old, and he/she was also transported to the hospital with minor injuries. While investigators did not suspect that the driver had been impaired at the time of the crash, they were working to determine what had caused it to occur.
What should I do if the car I was riding in was involved in an accident in Phoenix, AZ and I suffered injuries?
If the driver of the vehicle you were riding in was responsible for causing the accident, you may be entitled to file a claim under their insurance policy in an effort to recover compensation for your injuries. In the event it was another driver who caused the crash, then you would need to file a claim with that driver's insurance carrier. However, before you begin providing statements to insurance adjusters and filing claims, you should consider consulting with a Phoenix, AZ accident lawyer first. Why? A Phoenix, AZ accident attorney can assess your injuries and advise you on what you should do next to ensure you obtain the maximum amount of compensation your injuries/losses entitle you to.
Getting in contact with an accident lawyer in Phoenix is easy. Simply call the Schmidt Law Group at 602-282-0047 or click here to request a free case evaluation.
Schmidt Law Group can be reached at:
3770 N. 7th Street
Phoenix, AZ 85014
Phone: 602-282-0047
Website: www.ifyoubeenhit.com
https://accident.usattorneys.com/wp-content/uploads/sites/2/2020/07/photodune-7599487-car-crashed-during-road-accident-xs.jpg
520
385
jennifer
https://usattorneys.com/wp-content/uploads/sites/2/2020/01/logo.svg
jennifer
2020-08-01 02:29:26
2020-08-01 02:30:25
Phoenix, Arizona, 21-Year-Old Woman Dies After the Vehicle She was Riding in Crashed into a Block Wall