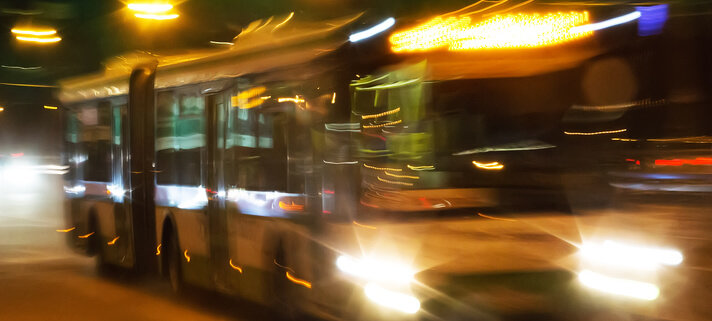 On August 13th Florida Highway Patrol was called to the scene of an accident involving a semi-truck and a bus in Crestview, a city located about 30 minutes away from Fort Walton Beach, FL [Source: WEAR-TV]. The incident report stated that both vehicles were traveling east on I-10 at around 11:45 p.m. on Thursday near mile marker 56 when the bus reduced speed as it traveled downhill. The truck, which was traveling behind the bus, was unable to stop and rear-ended it.
Police say there were 40 people on board the bus at the time of the crash.
After the semi collided with the bus, it ran off the road and stopped on the south shoulder. The driver of the truck, who has been identified as a 70-year-old male from Dundee, was flown to Fort Walton Beach Medical Center to receive treatment for the serious injuries he suffered. A 53-year-old individual who had been traveling as a passenger in the semi-truck also suffered injuries and was taken to Okaloosa Medical Center.
Among the 40 people who were traveling on the bus, only two were said to have suffered injuries. The news source says a 46-year-old man and a 23-year-old man both from Chiapas, Mexico, received treatment for their minor injuries.
Should I contact a Fort Walton Beach, FL accident lawyer after a collision?
Whether you were involved in an accident while riding as a passenger in a vehicle or while driving your car or truck, you should contact an attorney directly after an accident while the evidence is still fresh and can be utilized to help you recover compensation for your injuries. Although your personal injury protection (PIP) insurance will help cover medical expenses, you are only able to collect up to the limits you purchased. However, if another party was involved in the accident and he/she played a role in causing it to occur, then you may be able to recover compensation from them and their insurer.
One of the reasons why lawyers urge accident victims to contact them directly after an accident is because the State of Florida places a time limit on how long an accident victim has to bring a claim against another party. The legal term for this time limit is the statute of limitations. In Florida, a car crash victim has four years from the date of the accident, or the date their injuries became known to file suit against a party they believe was responsible for causing the crash. If you think another driver's negligence contributed to the accident that left you and/or a loved one injured, it's time you contact Browning Law Firm.
The Fort Walton Beach, FL accident lawyers at Browning Law Firm understand how difficult life can be after an accident and are ready and available to lend a legal hand.
Browning Law Firm can be reached at:
418 Racetrack Rd. NE, Ste B
Fort Walton Beach, FL 32547
Phone: 850-344-1736
Website: www.browninglawfirm.com
https://accident.usattorneys.com/wp-content/uploads/sites/2/2020/06/iStock-924197940-1.jpg
491
712
jennifer
https://usattorneys.com/wp-content/uploads/sites/2/2020/01/logo.svg
jennifer
2020-08-17 21:09:09
2020-08-17 21:10:07
Semi-Truck Rear-Ends Bus Carrying Passengers on I-10 Near Fort Walton Beach, Florida