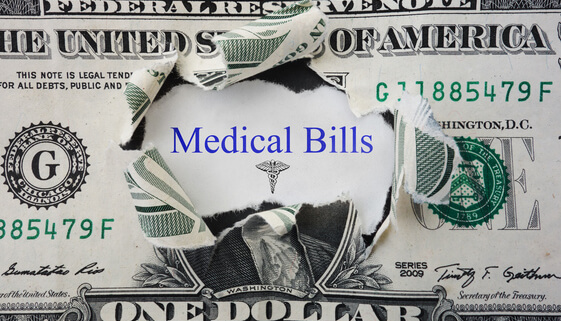 Las Vegas, NV – Drivers are always at risk in Las Vegas and other cities around the country for being involved in a collision. After the accident, victims have to pay for costs associated with property damage, injuries and medical treatment, and they can be out of work for extended periods of time. These costs can start to add up and affect the person's ability to remain financially solvent. A personal injury lawsuit is one of the only ways to remedy this situation when an accident victim starts to experience severe financial stress. 
Property repairs
Motor vehicle accidents always result in some level of property and vehicle damage, even when the collision is minor. Some drivers may be able to simply file an insurance claim and receive payments to cover necessary repairs. This is especially true for accidents that do not result in injuries, as the auto insurance process is usually sufficient to make property repairs. 
Medical treatment
Healthcare costs are high in the United States, and medical bills along with the costs of treatment that can last for months or years after an accident is often the single biggest source of financial loss for an accident victim. A person who has a long term or permanent injury can often spend thousands or millions of dollars to meet with doctors, stay in hospitals, and receive various forms of physical therapy and assistance. 
Issues with income and earning potential
After a minor accident, the victim may be out of work for a few days or weeks. However, someone who is seriously hurt may be away from their job for months or even years. In addition to these missed opportunities to earn, the victim may have their future earning potential limited by permanent injuries. In many accident cases future lost income and wages are the largest part of damages, especially if the person will not be able to earn their full salary for the rest of their working years. 
Injury attorneys and damages
An attorney who files a personal injury lawsuit will add up all of these kinds of losses as damages. This is the legal term for any problems which resulted in financial loss that were caused directly by the defendant's actions. There are additional types of damages that are non-economic available in many accident cases as well. 
Finding out if a civil lawsuit is necessary
Anyone who has been injured in an accident should contact a local injury attorney to explore their options and protect their rights. Southwest Injury Law is available to consult with clients in the Las Vegas area and provide more information about lawsuits and related issues. 
Firm contact info:
8716 Spanish Ridge Ave, Suite 120, Las Vegas, NV 89148
702-600-3200
https://accident.usattorneys.com/wp-content/uploads/sites/2/2020/12/photodune-13355431-medical-bills-xs.jpg
356
561
brian
https://usattorneys.com/wp-content/uploads/sites/2/2020/01/logo.svg
brian
2020-12-08 12:12:40
2020-12-08 12:12:40
There are a number of losses that will affect drivers in Las Vegas after a collision