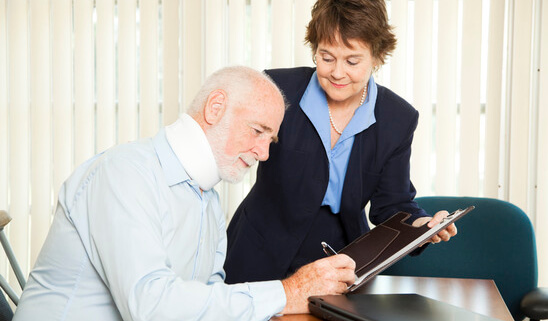 There are three categories of damages that an individual might be entitled to recover if they were injured as a result of someone else's negligent behavior. These include economic damages, non-economic damages, and punitive damages. Damages is a legal term that simply means "financial relief" and is used often throughout personal injury cases.
What are economic damages?
Economic damages refer to the monetary losses an injured party suffers as a result of an accident. These are often easier to calculate if a victim has kept a record of what they spent on accident-related expenses or the debt they have accrued as a result of the incident. Some examples of the economic damages that are often awarded in personal injury cases include:
Medical expenses. Medical expenses can include what a victim paid or is required to pay for being transported by an ambulance, hospital stays, doctors' visits, transportation costs if they have to travel back and forth to the doctor frequently, medication, etc.
Lost wages. After an individual has been involved in a motor vehicle accident, slip and fall accident, or another type of incident, it is likely their injuries will prevent them from working for some time. In some cases, a victim might even be considered disabled and can no longer work at all. If an accident victim in Wyoming is unable to work and bring in a steady income, they should be compensated for any wages their injuries have prevented them from earning.
What are Non-Economic Damages?
Unlike economic damages that refer to monetary losses, non-economic damages refer to the following:
Pain and suffering. This refers to the physical and mental pain an accident victim experiences as a result of an incident.
Mental anguish. Mental anguish refers to mental conditions an injured party develops as a result of the accident they were involved in. Some examples include anxiety and post-traumatic stress disorder (PTSD).
Loss of enjoyment of life. If an accident turned an individual's life upside down or has caused them to lose interest in the things that once brought them joy, they may be entitled to recover compensation to make up for their loss of enjoyment of life.
Loss of consortium. In some personal injury cases, a victim's spouse may be entitled to recover compensation if the accident has interfered with their relationship.
What are punitive damages?
Punitive damages are often awarded in cases that stem from criminal behavior or a wrongful act. For instance, a drunk driver may be required to pay punitive damages to the party they injured in an accident as a form of punishment for their behavior.
Types of Personal Injury Cases Frederick J. Harrison, P.C. Can Help With
If an individual was involved in any of the following types of accidents in Wyoming and they are looking to recover damages, Frederick J. Harrison, P.C. can help them.
Slip and fall accident
Motor vehicle accident
Medical mistake
The Wyoming personal injury lawyers at Frederick J. Harrison, P.C. are aware of how an accident can affect a victim both physically and financially and are prepared to help them fight for a favorable outcome in their case.
Frederick J. Harrison, P.C. can be reached at:
301 West Lincolnway
Cheyenne, WY 82001
Phone: (307) 316-1760
Website: www.fjhlawoffice.com
https://accident.usattorneys.com/wp-content/uploads/sites/2/2020/10/photodune-469400-personal-injury-lawyer-with-client-xs.jpg
365
548
jennifer
https://usattorneys.com/wp-content/uploads/sites/2/2020/01/logo.svg
jennifer
2021-02-10 17:34:25
2021-02-10 17:34:25
Types of Damages that are Awarded in Personal Injury Cases in Wyoming