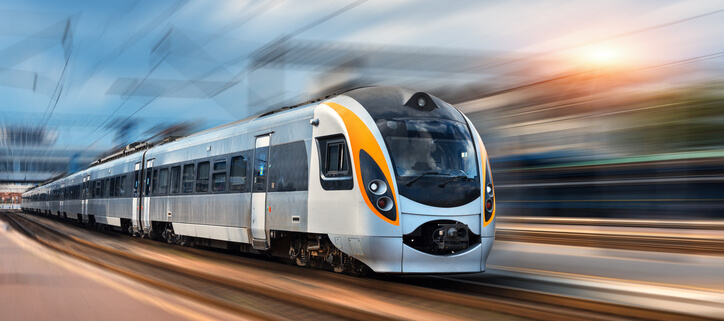 There are some dangers inherent in being near train tracks. Vehicles and pedestrians should both be careful to look before crossing any railroad tracks and watch for signals. Once a train is coming and a person or car is near the tracks, it is often too late to avoid a collision.  
A man was killed by a public transportation train in West Palm Beach, Florida.
Morning commuter train strikes a disabled man shortly after leaving the station
The incident happened at about 5 am on a Monday morning near Palm Beach Lakes Boulevard and the Tamarind Ave intersection. The police believe that the victim was walking westbound near the tracks, and was struck as the train went by traveling southbound. This was the first train to leave in the morning from the northern end of the Tri-Rail route at Mangonia Park. 
The transportation agency said that ten passengers were stuck on a train car during the aftermath of the accident. After about two hours, they were able to progress to the next stop several miles southbound near Okeechobee Boulevard and Tamarind Ave. Tri-Rail service was suspended during the initial investigation and process to clear the scene. Bus service was used to get passengers through Mangonia Park to the city of West Palm Beach for a few hours. 
The victim was a 37 year old male who lived locally. The victim's grandmother told the media that he was disabled and had been recently living with his mother. The family did not make any other comments to the media about the incident. Operators said that the train that struck him was the first to operate since the rail service was temporarily suspended for an entire weekend, due to Hurricane Isaias. 
The Tri-Rail system connects at the northern part of Miami-Dade County's MetroRail and goes through Broward and Palm Beach Counties. 
Fatal accidents and public transportation
A local government or agency that operates public transportation vehicles can be sued in civil court just like any individual person or business. However, Florida law does provide some specific procedures that must be followed when any government entity is the defendant. 
A lawyer who handles personal injury cases can discuss the specifics of certain concepts like sovereign immunity and caps on damages that may be relevant to your tort law case. Some of these laws are designed to prevent victims from receiving very large judgments that will need to be paid through tax dollars. However, there is still a possibility to collect a substantial sum. 
Get help from a local firm that focuses on personal injury law
You can speak with an accident lawyer who practices in the area of West Palm Beach, Florida after an incident. To learn more, contact a professional through the listings on USAttorneys.com.
https://accident.usattorneys.com/wp-content/uploads/sites/2/2020/08/iStock-696254566.jpg
483
724
brian
https://usattorneys.com/wp-content/uploads/sites/2/2020/01/logo.svg
brian
2020-08-08 13:50:13
2020-08-08 13:52:06
West Palm Beach train accident claims one victim